Hey peeps, sorry it's been a while since I updated. I wanted to alert you to my new movie that premieres just one week from today: ILLUSTRATION NATION!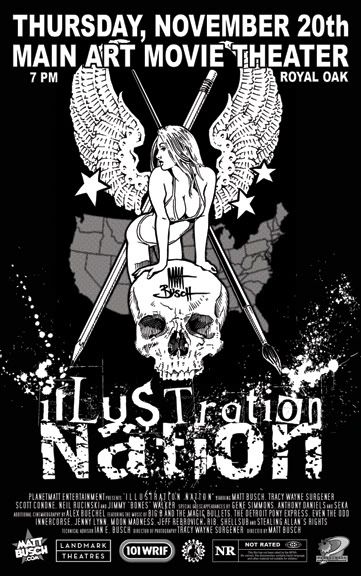 The film follows the my adventures around the world on a promotional tour for the New York Times Best-Seller 'You Can Draw Star Wars' from Lucasfilm and DK Publishing. From George Lucas's Skywalker Ranch, through the heart of Hollywood, to the streets of fantastical Tokyo, ILLUSTRATION NATION is an uncensored look at fandom and the pop culture industry that drives it. The pulse-pounding documentary also features rare cameos ranging from Anthony Daniels (Star Wars) to Gene Simmons (KISS, Family Jewels) to adult film legend Seka. Check out the trailer below!



ILLUSTRATION NATION: Movie Trailer




The premiere will be an event hosted by myself at the Main Art in Royal Oak, MI on Thursday, November 20th. Admission is $9.25. Short films and animations will screen at 7 pm. I'll introduce the feature presentation at 7:30 pm, the running time being 1 hr 57 min. A Meet and Greet with the cast will commence after the screening in the side lobby, followed by an after-party at Mr. B's on Main St. All are welcome. Please note that ILLUSTRATION NATION is Not Rated by the MPAA, and is not suitable for children.

See you there!